What Are Your Favorite Things?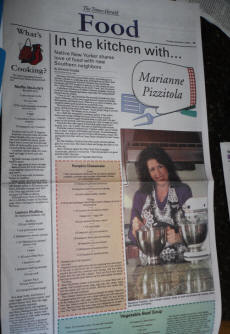 Me! As seen in the Newnan Times Herald Newspaper food Section!! I love Georgia!!!
Notes:
Let me share a few secrets with you, and as I remember more, I will add them.
Cakes: If you are making layered cakes, and want them to be fairly level with no hump in the center that needs to chopped off (although it is always good for snackin!) ... Just wrap those cake pans in teflon pan wraps (cake baking stores or Wilson has them). These are cotton wraps that are soaked in water and allow for the cake to cook more evenly and without that dreaded mountain in the center.
Cheesecake: Hate that crack in the center of your cheesecake? No matter what you do it is always there? Well, next time, wrap the outside of your cake pan in aluminum foil and set it into a baking pan with water till it is at least up half the side. Bake the cake in the oven till done, then shut the oven and let the cake cool without opening the door. Once completely cool, remove the cake from the baking dish and cool for at least an hour. This works for me every time!
Ribs: Cook 'em LOW and SLOW! Do not rush them and do not put on sauce before they are cooked! It will burn! Rub the meat real well with meat rub (check out my dinosaur ribs!) and keep the rub in a jar for easy quick use. Let that seasoning get into the meat and cook it at a low temp. Sauce goes on LAST!!
Flavor: Instead of using plain water to cook veggies or add to your cooking, add beef or chicken broth, and always use low sodium, you really do not need the extra salt and if it is really needed, it is better to add it to your own dish as needed.
************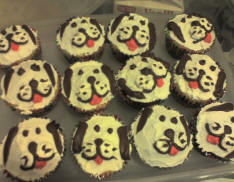 "Pup Cakes" I made for cousin Fiona's birthday.
************
Got Fruit Cake? I love this. You know that fruit cake otherwise known as Panetone that everyone gets during the holidays? Don't fret.. Slice it up and use it for French Toast! Trust me friends.. this is the best! It is only second to Challah French toast.. ok.. maybe third next to my French Toast Soufflé in here.. But it is delishy!