Marianne Pizzitola
Those who know me know I love my life. I love to bake and cook wonderful foods, and I love to give people gifts that they say Oooh! when they open! Of course I try to give things I think I would like to receive, but also listen to things my friends and family say through the year to pick up clues about some great gift ideas! I am also very familiar with the concept of wanting to do something special and do not have the money or the ability to get to the store to buy things I would need. Several years ago, I was confined to my sofa after a few surgical procedures and the timing could not have been worse, the holidays. What was I going to do? I decided to make my friends gifts from my heart and kitchen. I made pickled eggplant and jarred them, and then decorated the jar with some scrap fabric I had and a custom label that read, "For your gastronomic pleasure from Marianne's kitchen." My friends loved them. I also made personalized Christmas balls from these glass ornaments I had purchased from Michaels Craft store and never did anything with and used some old glass paint from my craft box to decorate them and also used decoupage to design them.
This site, comes from my gifts, since so many have commented on their uniqueness. While some may be small, they were still gifts of the heart. This site is a slow process in building, so please check back often. The site also includes my recipe section, and if the recipes I love and make for others are not already online, they have to be typed in! So check back often because I add new ones all the time! I hope you too love my suggestions.
If you are interested in having me teach you or a group to make something specific, or to decorate a cake or make a recipe I have here, please contact me! I am available to make custom sweets for your next party or event!! I also can place your corporate design on a cookie or cupcake! I am working on a series of Gluten and Allergy free recipes, so check back for those!
Be creative, it is lots of fun and can be very relaxing!
About Me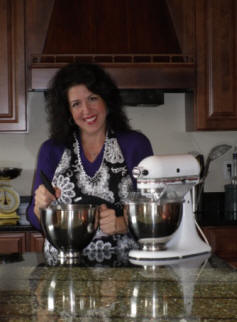 Born in Brooklyn, formerly of Long Island, NY, now living in sunny Georgia and enjoying every day of my life. Life is a journey, not a destination.